Hot Chip - In Our Heads
Until I stumbled across the music video to 'I Feel Better' I seemed to view Hot Chip as something of a one-breakthrough-hit-per-album phenomenon. I'd only downloaded
Ready for the Floor
and
Over and Over
from them - admittedly both fantastic and seminal singles - but, through no other reason than sheer ignorance, never motivated me to listen further. 2010's
One Life Stand
then was something of a late awakening for me; a fantastic mix of smart, funny and personal electropop. When acts like HURTS and La Roux are dominating the genre with die-hard serious faces and cold, brash aesthetics, it's quite refreshing to see acts injecting humour and personality.
For their fifth album, then, Hot Chip have few challenges left ahead of them. With such consistency there's always the fear of failure to please, but the band seem to have garnered a reputation that so few current British acts seem to achieve with Pitchfork and the rest of the international critical press.
A brassy opening, then, is made on 'Motion Sickness'; "Remember when people thought the world was round?" is the weird lyric
du jour
but really full attention is given to the bold, ballsy instrumental. A little over-the-top, it's certainly catchy, and something a little unexpected from the band. A touch of 80s synthpop is then thrust into our ears with the hook-laden 'How Do You Do?', somehow reminiscent of Bronski Beat. The intro to 'Don't Deny Your Heart', too, is crafted with such a 1988 nostalgia that you half expect Alexis Taylor to be replaced by Whitney Houston - but the band merge it with their token infectious electronic sound and the end result is the track's runaway highlight. The comedown 'Look at Where we Are' though is one of the biggest surprises: no tongue-in-cheek humour, no dance breakdowns. Just Taylor crooning "never gonna be without each other's love again" over an understated, almost reggae-tinged beat.
Unfortunately their withdrawn acoustic lags a little on 'These Chains' and 'Night and Day', two tracks almost tiring in their lack of panache. The former is a slow-burned falsetto set over quite damp squibs of synths; the latter much more familiar in terms of Hot Chip sounds, but in a poor caricature of themselves. They give themselves room to explore creatively though on the 7 minute fascination 'Flutes', effectively a house track given atmospheric waves and sequences. "One day you might realise/ that you might need to open your eyes" is suggested distantly, before the far more distracting 'Now There is Nothing', where marimbas and basslines reassert their more fun sides. The track is quite reminiscent of modern electro-soul efforts from Thundercat or Washed Out - and follow-up 'Ends of the Earth', too, boasts both carefree synth elements and a soulful, romantic vocal ("I just want you to feel the relief of a man").
From the obvious chants of "oh" to the inclusion of playground noises and birdsong, 'Let Me Be Him' might exude childishness but is one of the most emotionally charged tracks of the album, slightly reminiscent of the hopelessly cute
Raconte-Moi Une Histoire
from last year's M83 record. Even the riffs are varnished with echoing sunniness, and the whole thing's just immensely satisfying. A little more sinister but no less imaginative, the closing 'Always Been Your Love' drafts in Gang Gang Dance's Lizzi Bougatsos' voice to mix up the lyrical side of things.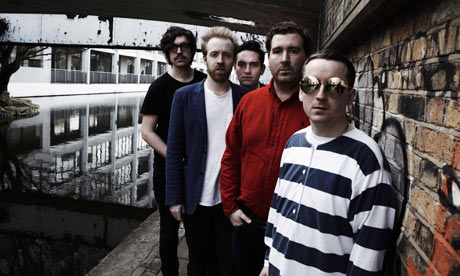 Though the album's first half ends with an incredibly disappointing chunk, the final five tracks are really
In Our Heads
' coup de gr
â
ce. Many new sounds and genres are performed by Hot Chip to resounding success and even with those two lacklustre middle moments, the album truly reaffirms their status as one of the UK's most consistent deliveries.
Rating:
8/10
Highlights:
Don't Deny Your Heart, Let Me Be Him, Ends of the Earth, How Do You Do?, Flutes
Avoid:
Night and Day, These Chains
Artwork Watch:
It's all a bit "draw random lines and fill in the gaps on MS Paint, before slapping on the Grand Theft Auto" font isn't it?
Up next: Alexandra Burke